Medipass supports COVID-19 Medicare item codes for telehealth services
Adrian Miles | Apr 06, 2020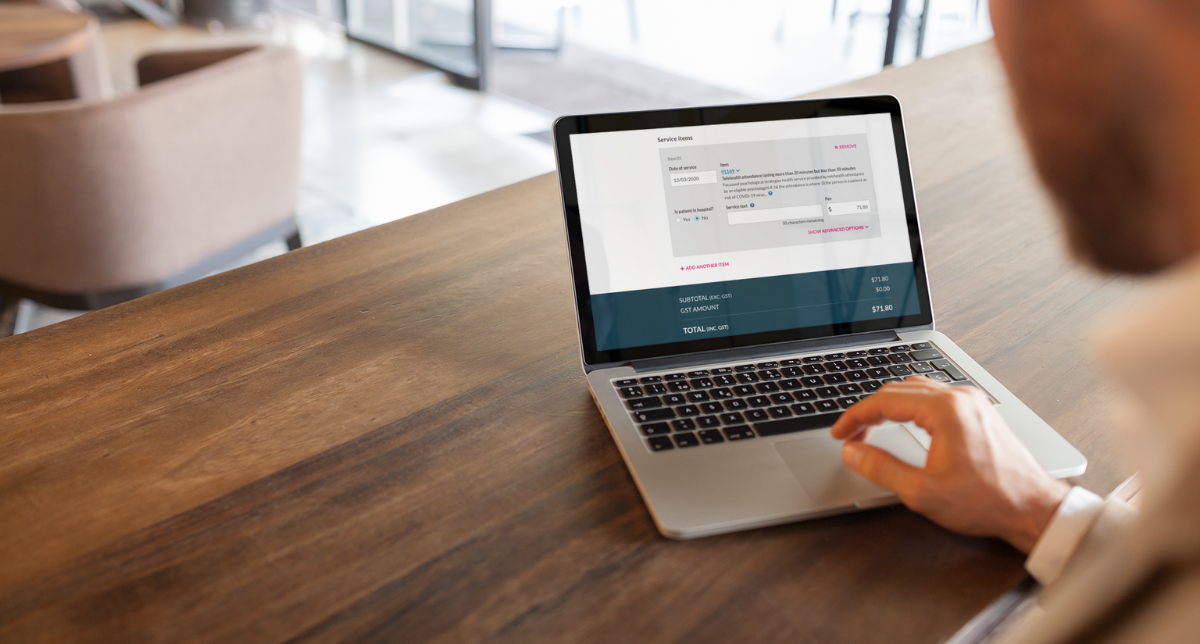 Medipass update: To support health professionals and their clinics during this time, Medipass has made all telehealth claims free of charge until at least September 30th, 2020*. We have already updated our platform to support all new COVID-19 MBS item codes, updates to item codes that can now be used in a telehealth scenario, as well as existing telehealth MBS item codes. This makes us a complete solution for all telehealth providers nationwide.
From March 2020, we have observed an exponential increase in the number of eligible health professionals preparing themselves and their clinics for telehealth consultation. This comes as no surprise, given the government's announcement on March 11th to allocate $100 million for a new Medicare-funded service for people in home isolation or quarantine as a result of COVID-19. The funding boost includes temporarily doubling bulk-billing incentives for GPs to provide both face-to-face and telehealth services combined with the addition of a range of new Medicare telehealth items that can be claimed from March 30th.
Item codes will include GP services and some consultation services provided by other medical specialists, nurse practitioners, mental health treatment, chronic disease management, Aboriginal and Torres Strait Islander health assessments, services to people with eating disorders, pregnancy support counselling, services to patients in aged care facilities, children with autism, and after-hours consultations. From 1st April 2020, further telehealth MBS items will be added for pathology.
For the full list of the new items that can be bulk-billed under Medicare, and easily claimed via our digital claiming platform, click here.
It's definitely worth noting, that "from 6 April 2020, it is a legislative requirement that the new telehealth services must be bulk billed for Commonwealth concession card holders, children under 16 years old and patients who are more vulnerable to COVID-19".
and
"Health providers may apply their usual billing practices to the telehealth items for patients who do not fit the above criteria. Providers are expected to obtain informed financial consent from patients prior to providing the service; providing details regarding their fees, including any out-of-pocket costs."
The definition of 'vulnerable' people that must be bulk billed are those that: are required to self-isolate or quarantine, aged 70+ years, are pregnant or have a child aged under 12 months, identify as being of Aboriginal or Torres Strait Islander descent and are at least 50 years old, are being treated for a chronic health condition, are immunocompromised, or meet the current national triage protocol criteria for suspected COVID-19 infection.
The 22 new MBS telehealth items have been added for consultant physicians, geriatricians and consultant psychiatrists, and can be found here.
This means that providers will have a choice, for some patients, and some item codes, whether to bulk bill or not. It's really important to read the detailed description for the updated codes when raising claims to make sure you're using the appropriate method for your patient.
In addition to the push for increased access to telehealth, the government has announced it is temporarily doubling the Practice Incentive Program Quality Improvement (PIPQI) payments for GP practices that open for face-to-face services, for a minimum of four hours per day. This is designed to ensure practices stay open to provide face-to-face services for essential patients with conditions that are not suitable for treatment via telehealth.
Telehealth: Immediate benefits to practitioners during COVID-19
Telehealth gives many practitioners that would otherwise be forced to close, a way of allowing their patients to continue to access the primary care they need. The intent is to help contain the virus, while helping practices manage their financial impacts due to patient movement hesitations, or restrictions like in New Zealand, Japan, Italy, and other countries. The $100 million Medicare funding package means this service is entirely bulk-billed, with no out-of-pocket expense for patients.
Promoting the uptake of telehealth may also contribute to reducing pressure on hospital emergency services that are already fighting an important battle, while limiting exposure to others in a waiting room.
Setting up telehealth in your clinic or business
Telehealth consultations are those completed over the phone or via video conferencing software. Medipass recommends looking for software options that are cloud-based, provide encryption between providers and users, and where users are authenticated using a strong security protocol.
For further reading, we have compiled the following instructional resources:
How to get started with telehealth

by Karen Finnin

here
How to choose a telehealth video platform

by Karen Finnin

here
RACGP telehealth video consultations guide here
More information about protecting yourself, your team and your patients during COVID-19
For those practices continuing to treat patients or clients in their rooms, the government is starting to provide more advice around educating your patients on COVID-19, how to handle a suspected case who attends your practice, and even how to clean your rooms effectively.
Australian Government Coronavirus (COVID-19) National Health Plan

resources
If you're treating patients with a disability who are some of the most vulnerable and at risk of COVID-19, the Disability Services Consulting has released an e-Learning module to provide best practice in infection prevention here.
Medipass Card Payments and telehealth
If you're thinking about conducting fully patient paid consults or raising patient claims for eligible MBS telehealth items. Medipass Card Payments might be the right option for you. Medipass can facilitate an SMS payment flow to your patients, allowing you to process a payment simply and quickly in a telehealth scenario or take a Visa or MasterCard credit or debit card payment over the phone or other scenarios where the cardholder is not in front of you. Join the waitlist to get priority access for Medipass Card Payments here.
Ready to get started with Medipass? Register your practice for Medipass easily and simply here
About Medipass
Medipass is a health payment platform helping software developers and health practitioners deliver a simpler claim and payment experience. Medipass is the official Claim and Payment Partner of the Australian Physiotherapy Association and a Fintech Organisation of the Year finalist at the Finnies 2019.
*Any telehealth consultations where there is an associated patient out of pocket charge (eg. scheme credit or debit transactions) will still occur the relevant transaction fee.