Introducing Payment Holds
Adrian Perillo | Oct 13, 2020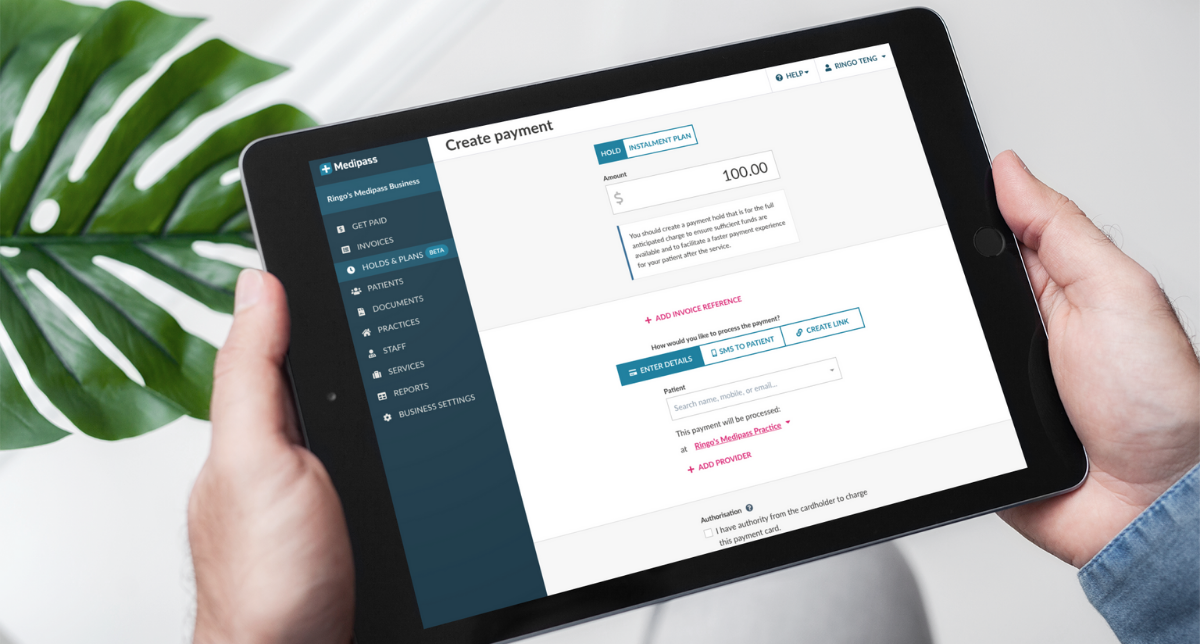 Improve patient appointment attendance, and simplify the payment experience
Medipass continues to focus on new payment innovations that enable healthcare practitioners to drive efficiencies in their practice, while also supporting new methods of care. It's all part of our mission to make it easy to pay for health care.
A key issue we have heard from customers is the lack of a simple solution that enables them to simultaneously:
Improve client attendance rates and prevent 'did not attend' scenarios.

Simplify the post-service payment process.
These issues are particularly pressing for our customers who deliver telehealth consultations, and those that allow online bookings.
Medipass is delighted to announce the release of Payment Holds. Holds, or pre-authorisations, have been a common tool used by hotels to ensure that funds are made available and can be used after a service is delivered. In Medipass, we allow you to place a hold on the client's payment card, which is valid for up to seven days. Once a service is delivered, a Payment Hold can be easily converted to a payment for the service.
This simple payment solution means that not only do healthcare providers have confidence that funds are available, and a patient is more likely to attend their booking, but also enables a more streamlined payment process, where a patient does not need to spend unnecessary administrative time with a practice assistance, finalise payments. Instead, a practice can simply convert a hold to a payment, and a patient is free to leave.
Learn more
To learn more about Payment Holds, please check out our help article, including a video walkthrough. Payment Holds are available in beta for all Medipass customers. Create your Medipass provider account today.