Why driving beats flying to a conference - a few things we learnt about delivering healthcare services in regional Australia
Adrian Miles | Oct 29, 2019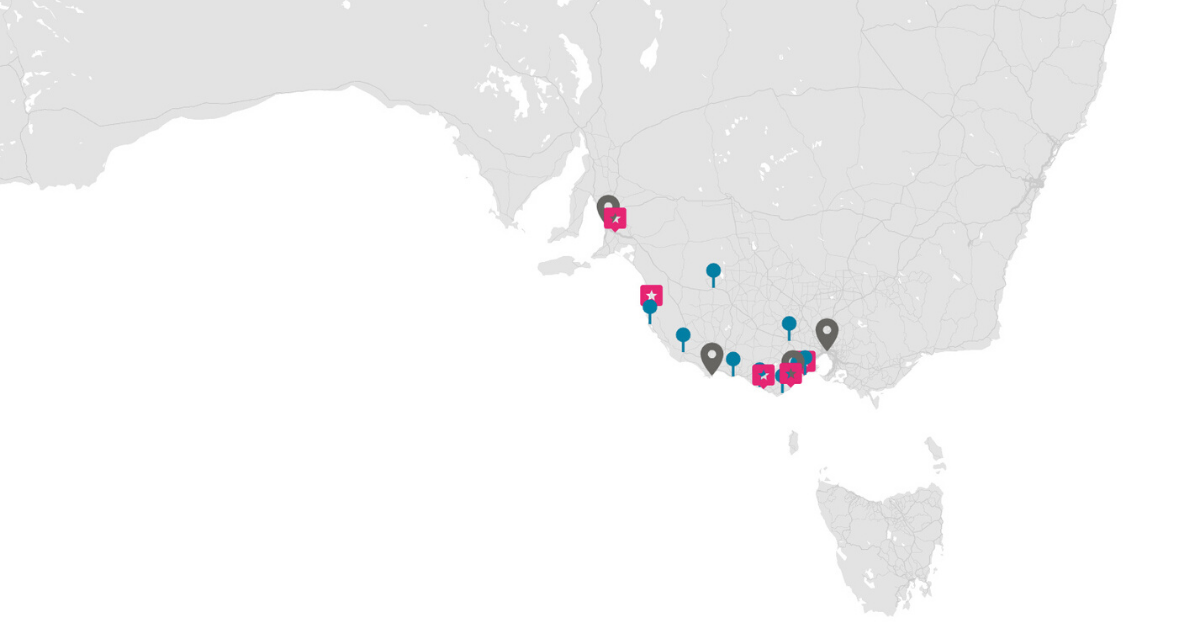 Last week, Fahad and I drove from Melbourne to Adelaide (via the scenic coastal route) for the 2019 Australian Physiotherapy Association (APA) annual conference, about a 1000km journey give or take. Why? This is a question we were asked many times before (and after) so let me talk you through the logic and why we're really glad we did... and will try and do it again next year too.
Being a regional or remote healthcare practitioner is hard, trust me I know from personal experience, and it's why we've been really excited to see healthcare practitioners in regional areas sign up to our service right from launch three years ago. Despite our humble beginnings, some of our very first customers live and work on the route we took so how could we not pop in and say hi, and thanks!
We had some amazing conversations and learnt a great deal. Whilst resisting the urge to turn this into a travel blog, here's the important stuff that really resonated.
1. You will often work across multiple locations
Patients/clients are way more spread out - obvious, we know - but it really impacts the kinds of business model you might need to operate to be effective and successful. A number of the healthcare staff we talked to worked across multiple sites and even businesses, travelling regularly between practice locations to provide better coverage and more convenience for their patients. Then there are those practitioners who are conducting home visits and/or exploring telehealth platforms - for patients with appropriate funding (eg. home care packages and NDIS in particular), providing these businesses with an opportunity to differentiate with new service delivery models.
2. Multiple locations = multiple processes (and often multiple costs), requiring innovative business solutions
If a practitioner is visiting multiple locations to practice, we heard regularly that there was more to do to stay organised and maximise the time spent at each location. Compound that with the need to have the same 'stuff' (phone/internet/rooms/admin staff/software/etc) to make the business work at each location, meant our rural practitioners were often looking for new innovative solutions to make their business run smoothly and efficiently and they were often early adopters, more willing to try new technology and solutions out.
3. You might describe yourself as a multitasker
In some areas, with healthcare services few and far between, the local healthcare practitioner needs to be resourceful and be able to cover a broad range of problems and conditions. Being able to tap into the local networks and community support channels is key and we heard about a great example of the local physio working with their community to coordinate urgent funding for an NDIS participant who was struggling to make their support plan work under the new system. Being proactive, efficient and organised really helps, particularly if you're running most things on your own.
4. Broadband connections are getting better (but blackspots still exist)
Despite the Melbourne to Adelaide coastal route being a popular tourist run, our telcos still have a way to go to connect everyone up. With myself on Telstra and Fahad with Optus, accessing a mobile connection between towns at times still proved challenging. However, in contrast, most towns, and the businesses we chatted to, were happy with their broadband connection (albeit, after many years of frustration)!
5. The software can really help
Assuming (4) isn't an issue, there are some great cloud-based software solutions available to healthcare practitioners that really help with (1), (2) and (3). From online booking functionality (HotDoc, Health Engine, Cliniko, etc), to practice management software (Cliniko, HealthKit/Halaxy, Nookal, Coreplus, etc), and accounting systems (Xero, MYOB, Quickbooks, Reckon etc), there are plenty of options available. However what we consistently heard was that taking payments is pretty much the same as it's always been - cash, card (at the terminal) or manual invoice - and that's why some of our earliest adopters of Medipass are from regional Australia. By reducing the hardware cost burden, integrating to other clinic software to reduce admin, and providing a means to take payment on the go, our proposition is worth a look. But we still have work to do - more software integrations, more healthcare funders (DVA, workers compensation insurers, etc) and a simpler onboarding experience were all called out. These are challenges we are up for and will continue to focus on.
We really enjoyed the opportunity to say hi and thanks in person. Hearing first hand what works and what doesn't was great, and that's why driving to a conference is better than flying. If you have ideas for our 2020 itinerary let us know - you can follow Medipass on our social channels and send through your ideas.
(BONUS) A big Lobster (or insert appropriate animal, fruit, veg, etc) puts you on the map
Grabbing a photo of a giant Lobster was always going to be a thing on this trip (might've even anchored the route), and with smartphone selfie cameras getting better and better and a ready-made audience on social media, that tourist cliche will always help raise the awareness of regional towns and their world-class produce! Not sure if it drives more healthcare business though…is selfie-arm a thing?