Integrate Medipass with Coviu to save time & get paid faster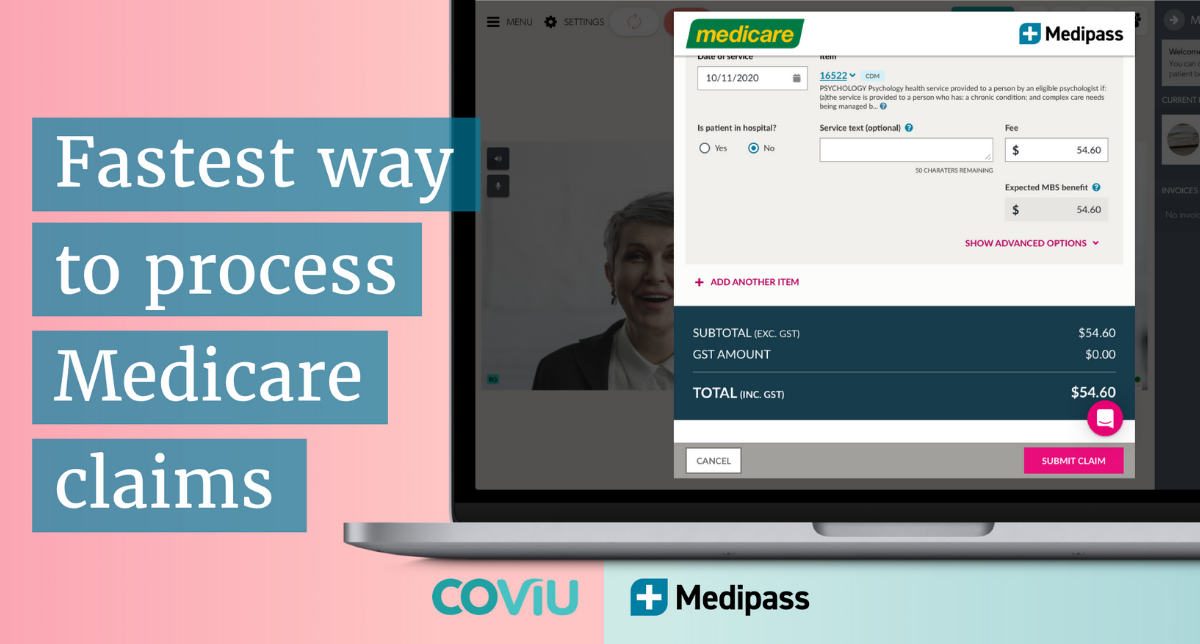 Simple to process Medicare and DVA claims
Whether it's bulk bill or private billing, Medipass enables providers to process all Medicare claims directly in Coviu. Security and privacy are our top priorities, all your patient and payment data remains in Australia and you're backed by our Melbourne-based customer support team to assist with any Medicare or DVA related questions.
Simple to accept telehealth payments
We're excited to be helping healthcare providers simplify telehealth payments. You can now create shareable Payment Links in Coviu to give to your clients so that they can open up on their smartphone or computer. Then, it's just like online shopping. Your clients can simply enter their payment details or pay with Apple Pay or Google Pay for your services.
Simple to submit an icare NSW invoice and get paid
You can now submit an icare NSW invoices directly in Coviu. Medipass has all the tools you need to get paid. Payments are processed in real-time and funds deposited straight in your account. Submit an icare NSW invoice in Coviu from any location at any time.
Getting started with Medipass and Coviu
To enable your Medipass and Coviu integration:
Sign up to Medipass and create a provider account.

Enable the funding options applicable for your business, including Medicare, DVA, icare NSW or processing credit card or debit cards.

Connect your Medipass account to Coviu by installing the Medipass add-on and entering your Medipass API key.
For more information on how to set up your Medipass add-on in Coviu, simply visit our help article here.
To learn more about our pricing please visit: https://medipass.com.au/pricing/
About Coviu
Coviu is Australia's leading telehealth software company and a spinout of CSIRO's Data61, offering a video consultation software to healthcare businesses. Coviu's platform makes it easy for healthcare providers to offer their services directly to patients via video consultation. Learn more about Coviu here: https://www.coviu.com/